Details About Mount Pinos
As one of my favorite deep sky observing sites, I thought I'd donate one page just to Mount Pinos...how to get there, what it looks like when you get there, aerial photos, etc.
This page may take a while to load, but it has a wealth of details about this treasure of Southern, CA.
The Route from I-5 at the Frazier Park Off ramp, north of Gorman. Right Click and then select "View Image" for the full size picture.

Directions to Mount Pinos From The Los Angeles Area
1. Take Interstate 5 north about 34 miles past the Castaic Junction (Magic Mountain).
2. Exit at Frazier Park Road (First red dot on picture, far right).
3. Turn left from the off ramp and drive about 7 or 8 miles. You will go trough a stop sign in the community of Frazier Park and mile or two later, a sign that says "Ranger Station/ Lockwood Valley" with an arrow pointing left (second red dot on picture). Don't turn here, keep going straight another 3-4 miles.
4. You will eventually come to a "Y" intersection (Third red dot on picture ) with a sign with directions to Pine Mountain Club (right) and Mount Pinos (straight), you want to keep going straight. The road to the summit has no markings so if you get past this point and there is a double-yellow line in the road, you're heading towards Pine Mountain Club, not Mount Pinos.
5. Follow this windy road about 8 miles past two yellow, snow gates. One gate is at about 1 mile in or so, the other about 5-6 miles in.
6. Near the end there will be a road sign with the words "pavement ends" on it. The parking lot is just around the corner so slow down a bit.
7. When you see a whole bunch of scopes and RV's, you're there.
The Absolute Directions to the Top of Mt. Pinos From Quartz Hill / Lancaster Area

(Checked 9/29/02)

Point
Waypoint
Distance Between Points
Distance From 60th West & Ave D (Hwy 138)

Notes

Pt 1
60th West and Avenue D (Hwy 138)
0
Pt 2
Barnes Ranch Road
22.3
22.3
Pt 3
House across from Reservoir
8.1
30.4
Pt 4
Exit I-5 N, "5 North Sacramento"
2.4
32.8
Pt 5
Gorman Bridge Overpass, "Hungry Valley"
4.6
37.4
Pt 6
Drive Thru McDonalds, Back On To I-5 North (FOOD STOP!!)
0.3
37.7
Pt 7
"Tejon Pass, 3144 ft" Sign
1.6
39.3
Pt 8
"Frazier Park Mt. Pinos" Exit
1.2
40.5
Pt 9
"Lebec Road" Stop Sign
0.2
40.7
Pt 10
"Kern County Line" Sign
0.5
41.2
Pt 11
Mt. Pinos Way (Side Road - Don't turn!)
2.4
43.6
Do Not turn off onto "Mt. Pinos Way"
Pt 12
Blinking 4-Way Stop
0.8
44.4
Pt 13
Lockwood Valley Road
3.3
47.7
Pt 14
Curve Left into Trees
4.8
52.5
Pt 15
Mil Potrero Rd
0.6
53.1
Pt 16
1st Snow Gate
0.8
53.9
Pt 17
Camp Area on Left
4.1
58.0
Pt 18
Camp Area on Right (McGill)
0.2
58.2
Pt 19
2nd Snow Gate
0.1
58.3
Pt 20
Big Rock on Right
3.3
61.6
Pt 21
Mt. Pinos Parking Lot, Elev. 8300 ft.
0.1
61.7
Note:
Roadside mileage signs say "13.67" at Parking Lot
This is a shot of the Mount Pinos parking lot from 60,000 ft. Annotations by astro-tom.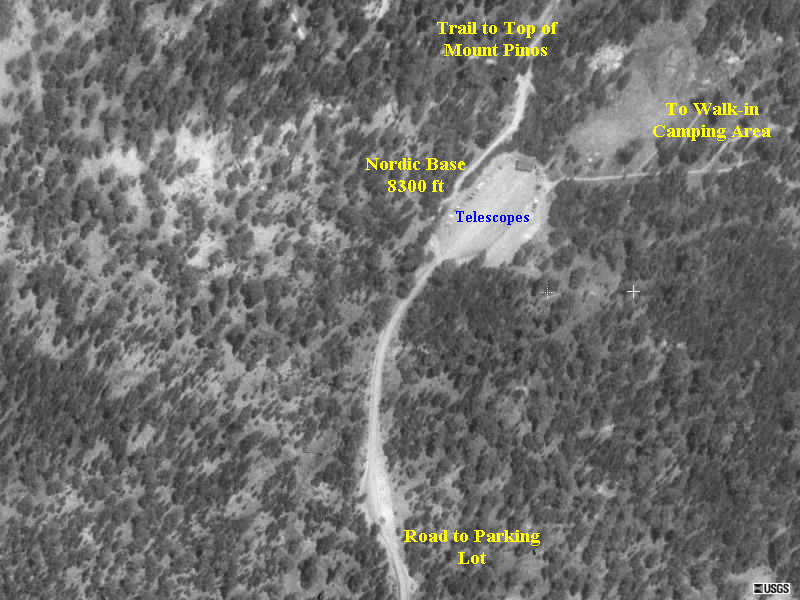 Some Suggestions For Visitors
Plan to arrive well before dark. I usually arrive latest around 1:00 or 2:00 to make sure I get a good spot in the middle and I like to eat and visit with others before dark. After dusk, there's no time to talk.
Don't forget plenty of warm clothing, and warm liquids to drink throughout the evening.
Adventure parking passes are required. They can be obtained at the ranger station in Lockwood Valley, Sports Chalet, or any BIG 5 Sporting Goods store; $5 for a day pass, $30 for a year pass.
BACK your car into it's parking spot. Even reverse lights are extremely bright when your eyes are fully dark adapted. Also, turn the dome light in your car to the OFF position.
Use a RED-FILTERED flashlight at night. Violators are liable to be shot, he he.
If you leave during nighttime, turn only your parking lights on and use the brakes as little as possible. If you have a GM car with daytime headlights, pull your emergency brake up ONE click to shut them off until you get a little down the road, it will not harm your brakes.
No green lasers after an hour and a half after dark. People are trying to do astro-photography, and these mess up their pictures.
There are porta-potties. (May, 2015), but come prepared with your own T.P. There are primitive toilets located about 150 yards downhill from the observing area in the primitive tent-site camping area. Bring a flashlight and before you go, know where you're going. (pun intended)
If you get there early, you can hike easily up to the peak of Mount Pinos. It's about 1.4 miles total walking distance (one way). If it's a good clear day, you can get a very nice view of the San Juaquin Valley and surrounding mountains. It's an easy trail, even tennis shoes will do fine. Bring water, wear decent shoes/boots.
05/25/2015