Product Reviews
I don't accept sponsors. These are products on this site are those that I personally use, so I thought I'd tell you about them.
| | |
| --- | --- |
| | ActonAstro "Telguide" (April 2004) |
| | Orion® Waist Case™ Accessory Holder (Item 15178) |
| | Wearguard Men's Regular Large Steelguard Supreme Coveralls (11/13/05) |

ActonAstro's "Telguide" Map Aid
By astro-tom.com
| | |
| --- | --- |
| | |
| | ~ $30 + shipping |
| | Purchased online 3/14/04, delivered 3/20/04 |
I saw a prototype of one of these units at a star party at the end of last summer and thought they were really useful. It has a lighted Telrad-style reticle sized to perfectly match your particular star atlas that you can lay down on the page to clearly see where you need to go on the map. With ActonAstro's Telguide on your star atlas, and a Telrad on your telescope, getting around the sky manually has never been easier. Perfect for Messier 110 and Herschel 400 hunts !!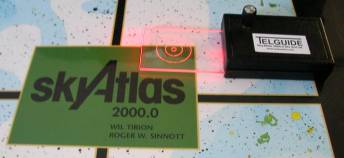 The website is intelligently laid out, and secure ordering was simple and straightforward. I had a 'receipt of order' confirmation within an hour, and a personal follow-on e-mail the next day asking specifics of which star atlas I was going to use the Telguide on. The unit arrived 6 days later, and includes its own custom pouch (great bag design - no Velcro to hassle with, but it stays closed and is easy to open with cold fingers.
The unit itself is roughly 6.8 x 2.3 x 1 inches in dimension, and the brightness adjustment knob brings the vertical heath to about 1.7 inches tall. The body is made of tough impact resistant plastic, and the clear lexan plastic portion that is illuminated has been scratch resistant so far. I used the unit exclusively all night for the recent Messier Marathon and found out a couple of helpful user tips:
| | |
| --- | --- |
| | The unit had no problems whatsoever with dew. |
| | The 9 volt battery powered the unit on high power for 12 hours and still has power to go. |
| | If the unit is left on high – the edge illumination I show below is enough to read all symbols on the map, and I found myself just using it as my primary red light to read observation notes, write comments, and sketch. It's not bright, but it gives a broad 'band' that was really useful. Turning the adjustment knob counterclockwise past a click stop turns the unit off securely. |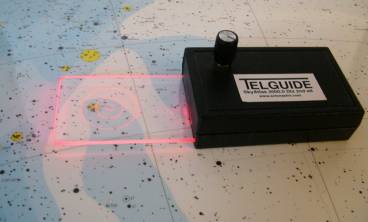 I recommend this product to every amateur astronomer this spring and summer. This simple idea, implemented in a rugged manner for a reasonable cost is how Telrad got so successful. It fills a need on your chart table!!!
Sincerely,
Astro-tom.com
DISCLAIMER:
Note: I don't get anything at all for any of the product reviews that I do. No one asks me to do a review. I do one about something only if I really like the product enough to take the time to write and tell you about it! Enjoy!!!

Astro-tom.com Product Review (3/18/05)
Orion® Waist Case™ Accessory Holder (Item 15178)
I needed some other place to keep my Nagler eyepieces than my front shirt pockets as I changed between eyepieces. And at Star Parties, I like to walk around and talk to other members, but still feel more than a little uncomfortable leaving one of these investments in the focuser when I walk away from my scope. So I asked Santa for one of these bags for Christmas. My first opportunity to use the bag was a complete success and now I don't know how I got along without it before!!
Essentially the bag is a waist pack (or what I call a fanny pack) that has exact foam cut-outs for 1 ¼" and 2" eyepieces – you pick which one you'll be using. It also holds filters in a front pocket, and has a place for your red-light flashlight and star map, keeping most of your most used accessories within easy reach at all times. It is comfortable to wear, well made out of rugged polyester, has room for seven 1 ¼" eyepieces or three 2" eyepieces and three 1 ¼" eyepieces and a barlow lens. The top flap unzips and folds back, out of the way, if desired. Fits waist sizes up to 58". At about $33, I believe it is a good value, and I recommend it to anyone needing a third hand when switching out eyepieces frequently.
http://www.telescope.com/jump.jsp?itemType=CATEGORY&itemID=23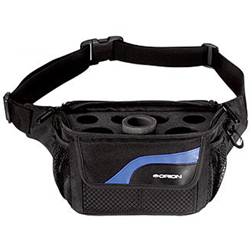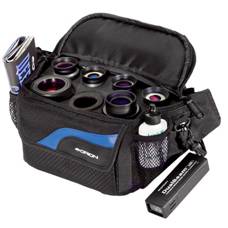 Top flap folded back Loaded for big game!

Astro-tom.com Product Review (11/15/05) (updated)
Wearguard Men's Regular Large Steelguard Supreme Coveralls
I thought I'd write a review about Warm Clothes, an important topic since we have upcoming Star Parties where the temperature promises to be pretty cold (!!)... and being cold will ruin your star party experience very quickly.
| | |
| --- | --- |
| | Wearguard Men's Regular Large Steelguard Supreme Coveralls ($129 on sale - 11/13/05) |
| | |
| | Colors are: Black Duck and Navy Duck |
| | Coveralls rated at -30 degrees F. |
I realize that the quoted temps are probably for situations where they are worn by a Navy SEAL doing calisthenics, and not by an amateur astronomer standing around! I have been quite comfortably warm in these down to +5 degrees on top of Mt. Pinos (8600 ft) in a light wind, so I can vouch for the fact that they do the job.
Data:
Insulated with Thinsulate ''Lite Loft", YKK Zippers on front, and back left Pocket, zips up from crotch and down from neck, 4 front Pockets that close with Velcro and two hand warmer pockets. From hip to foot, YKK Zippers run to vent the outside edge of the leg and to allow the leg to be zipped down over boots. The flap along the edge of the leg is covered by a 1'' insulated cloth flap that snaps via 4 snaps to keep out drafts. The entire shell is made out of abrasion and puncture resistant 12 oz. Cotton, coated with WearTex for water resistance. The shell is lined with taffeta cloth for added warmth. It also has internal suspenders to make it easy to move in the garment.
The right leg has two side pockets sized for tools or even a cell Phone and red light flashlights. The knees and elbows are separately reinforced with nylon for durability. The cuffs and around the neck are lined with Thinsulate and cotton mesh to keep out drafts. The warm hood snaps into place.
The company WearGuard has excellent service and delivery times have been under a week for anything that I have ordered from them. If you're like me and you Do Not like to be cold at a Star Party, I can recommend Wearguard Men's Steelguard Supreme Coveralls. I have now had my pear for nearly two years and they have held up great through multiple washings and many, many below freezing nights of observing.
11/2011