Mount Pinos Day Hiking
Mt. Pinos is one of my favorite southern Cal deep sky astronomical observing sites, so I'm up there frequently Daytime activities include a number of hikes that range across varying degrees of ability. It's a perfect place for a family day hike or a group of friends that want to push for (a bit more serious) a nice 10 mile day hike.
This page has pictures, Suggestions for Day Hikers, overnight backpacker, detailed Hiking Directions/times for a hike that begins at the Mt. Pinos Parking Lot "Nordic Base" and proceeds up to the top of Mt. Pinos and beyond if desired, and finally topographic maps of the area..
This is a shot of the Mount Pinos parking lot from an aircraft. Annotations by astro-tom.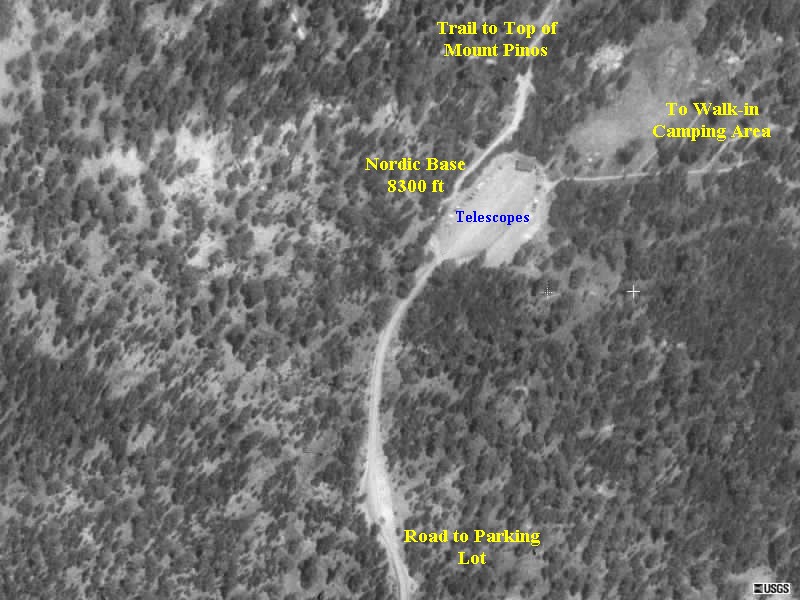 Recommendations For Day Hikers
Complete a Hiking Plan prior to leaving home, leaving one copy with someone not going on the hike and leave one copy face down on the front seat of your car for Forest Rangers if they need it in an emergency.
Complete a California Campfire Permit (free) if you will use a small stove on the trail. Protect our forests. Assume Fire danger is HIGH or EXTREME.
Plan your arrival / departure times so that you leave plenty of daylight time to complete the hike.
Hang your Forest Service Adventure Pass on your mirror outside of your car's sun shade.
Bring plenty of water!
Remember the altitude. Up to 8848 ft at the top of Mt. Pinos. Be alert to signs of headache, dizziness and other indications of altitude sickness.
Don't forget warm clothing. The temperature at the top can feel much colder than in the parking lot at the trailhead.
There are no porta-potties there any more (June, 2013), so come prepared with your own T.P. There are primitive toilets located about 150 yards downhill from the Mt. Pinos Parking lot. On the trail, please move at least 150 ft. off trail and fully bury (or pack out) any waste.
Practice "Leave No Trace" principles! Hike on the trail, don't cut switchbacks, pack out all trash and waste, leave the area better than you found it with no evidence that you were ever there.
**********************************************************
Mt. Pinos Hiking
The web link has detailed driving directions and maps.
Directions:
http://astro-tom.com/avac/observing_sites/mount_pinos.htm
NOTES:
1. In the winter after a big snowstorm the road above the first snow gate can be closed. In that case, cross-country skiing is more appropriate than hiking.
2. You'll need either a daily ($5) or annual ($35) National Forest Action Pass to park anywhere on the mountain. You can get these at any of the major sporting goods companies including Big 5 and Sports Chalet.
3. Great after-hike pizza at Mike's Pizza next to the road just above Frazier Park. https://www.facebook.com/pages/Mikes-Pizza-Co/173888492693983
4. From the top parking lot that you can see on the satellite photo shown on the web page the "Trail to the Top of Mt. Pinos" begins at a paved parking lot.
The Mt. Pinos - Sheep Camp trail can be divided into two sections:
First Section: Starting at the Mt. Pinos parking lot at 8300 ft. elevation to the top of Mt. Pinos 8848 ft., 2 miles hiking. (4 miles round trip) This first section of trail is extremely well marked (it's an old dirt road) and difficulty rated as Easy to Moderate because of the altitude and three moderately inclined 500 ft long sections. The beginning part of this section is the hardest and then it opens up into two large meadows. As long as children can walk (or be carried) the 4 miles round trip, at an easy pace, they will enjoy this hike. Be aware that mountain bikers frequent this trail. Stay to the side of the trail to allow them to pass safely. Bring sufficient water.

Second Section: Starting at the top of Mt. Pinos to Sheep Camp Spring 3 miles. (6 miles round trip from top of Mt. Pinos) Well marked trail in 3 seasons difficulty rated as Moderate overall with two 200 ft. long sections of steep incline: One steep section on the outbound decent of the backside of Mt. Pinos, and one on the outbound ascent of Sawmill Mountain.
Below are my "old guy" standard pace times with rest/water breaks for each part of the Mt. Pinos Trail. My times are pretty consistent for 3 season hiking.
Mt. Pinos Hike Times
Route:
Mt. Pinos Parking Lot to top of Mt. Pinos to top of Sawmill Mountain to Sheep Camp Spring and back to Mt. Pinos Parking Lot. Round trip 10.1 miles

Depart 7:15 am / Return 12:50 pm (Mt. Pinos parking lot)

Total Hike Time: 5 hours 35 minutes including lunch (Formatted as 5:35)
| | |
| --- | --- |
| | Fluid Requirement (summer): 100 oz per person (This is my personal requirement only) |
| | Availability of water: Seasonal unreliable spring located at Sheep Camp. low flow rate, not sufficient for a group needing to refill unless you have a couple of hours. |
| | Vegetation: Evergreens, meadow grasses. Sage reaches into trail at times. Long pants recommended or careful sidestepping to avoid minor scratches. Open exposure to sun and wind between Mt. Pinos Summit and Saddle. |
| | Altitude: Between 8600 ft and 8900 ft. |
| | Terrain: Easy to Moderate, few rocky ascending/descending sections. Light trail hiking shoes are fine if pack is light. |
**********************************************************
Times (in Hours:Minutes format) are provided for how long it typically takes me to travel outbound (From the Mt. Pinos parking lot towards Sheep Camp) and for the return (From Sheep Camp towards the Mt. Pinos parking lot.) On the return, my actual departure times for many of the legs are provide to give a sense of how long it will really take to get back, for instance I leave Sheep Camp at 10:10 am and get to the saddle between Sawmill Mountain and Mt. Pinos at 11:25 am.
Mt. Pinos parking lot to Mt. Pinos summit: 2.0 mi. (Roundtrip 4 mi)
Difficulty: Easy, three 500 ft long sections of moderately steep trail.
Hiking Time: 0:43 (outbound)
(return) 0:50 (12:00 pm) (I take it easy on the way back down.)
Mt. Pinos top to Saddle (small valley between Top of Mt. Pinos and Top of Sawmill Mountain)
Difficulty: Easy to Moderate, one 200 ft long moderate section of steep, loose rocky trail.
0:22 (outbound)
(return) 0:20. (11:25 am)
Total Times for Saddle to Sawmill Mt Summit
Difficulty: Moderate to Hard, steep, rocky trail
Total time 1:03 (outbound)
Total time (return) 0:20
Details of Saddle to Sawmill Mt Summit:
Sub-sections of the portion
1. Saddle to Sawmill Mountain Summit:

*Saddle to Sawmill Mt False top 1:

Difficulty: Hard, section of steep, loose rocky trail

0:12 (outbound)

(return) 0:04

2. Saddle to Sawmill Mt False top 2

Difficulty: Hard, section of steep, rocky trail

0:20 (outbound)

(return) 0:05

3. Saddle to Sawmill Mt Summit trail sign:

Hard to moderate

0:31 (outbound)

(return) 0:11
Sawmill Mountain summit to Sheep Camp trail sign:
Difficulty: Easy,
0:19 (outbound)
(return) 0:19
Sheep Camp Sign to Sheep Camp Spring:
0:07 (outbound)
(return) 0:11
Arrive Sheep Camp at 9:45 (The two actual overnight camping areas at Sheep camp are 150 ft from the spring at Sheep Camp Campground)
0:25 Lunch, Talk with other hikers
Depart Sheep Camp 10:10 am for return trip
**********************************************************
Maps of Mt. Pinos, Sawmill Mountain and Sheep Camp for Hike (Right click and save to view full size image)
Map 1 - Topographic Map of Mt. Pinos Road, Campgrounds and Hiking Trails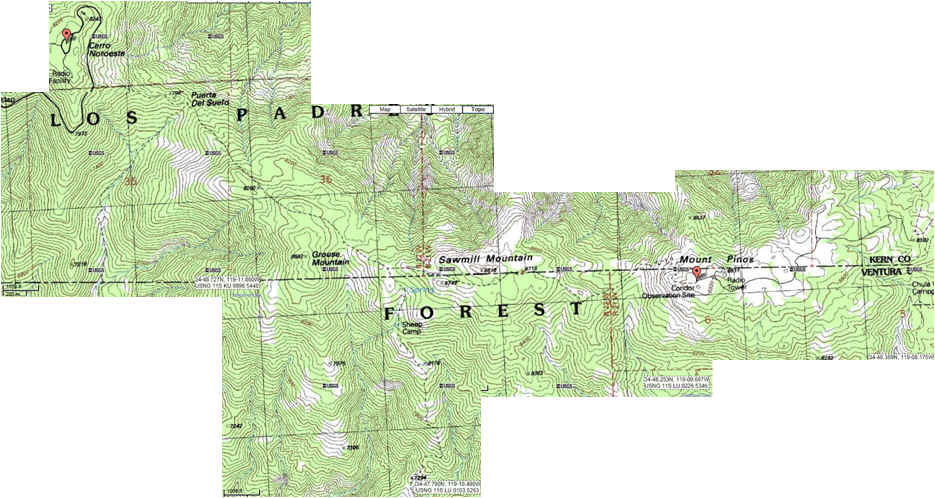 Map 2 - Day Hike Topo Map for Mt. Pinos Area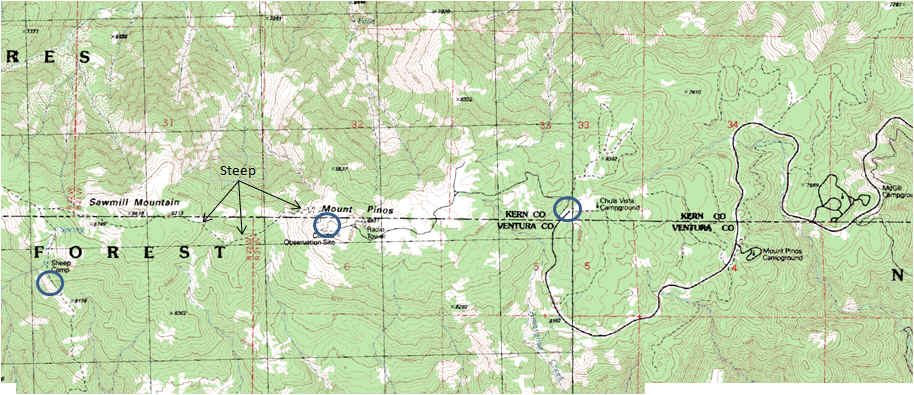 Map 3 - Details - Circles from Right to Left: Mt. Pinos parking lot, Mt. Pinos summit, Sheep Camp and Sheep Camp Spring
**********************************************************
02/2015