November 2, 2002 - Huge Public Star Party at Saddleback Butte State Park
Our Dark Sky Star Party on Saturday, November 2, 2002, was advertised in Astronomy Magazine. And it came off as a complete success. Despite clouds threatening all day long to force a cancellation of the event, the hotline number that we set up was answering calls from as far away as Palm Springs, Redondo Beach and San Jose letting people know that our event was a "GO!!!" I got out to Saddleback at 1:00 pm after doing a series of astronomy presentations for a local 4H event. I was quickly joined by Doug Drake and Darrell Bennett. We set up the area, talked with the Campground Host, Judy, and the Ranger, Park Supervisor (and long time supporter) Bob McKnight to let them know that unfortunately we had little idea of how many people would be attending the event.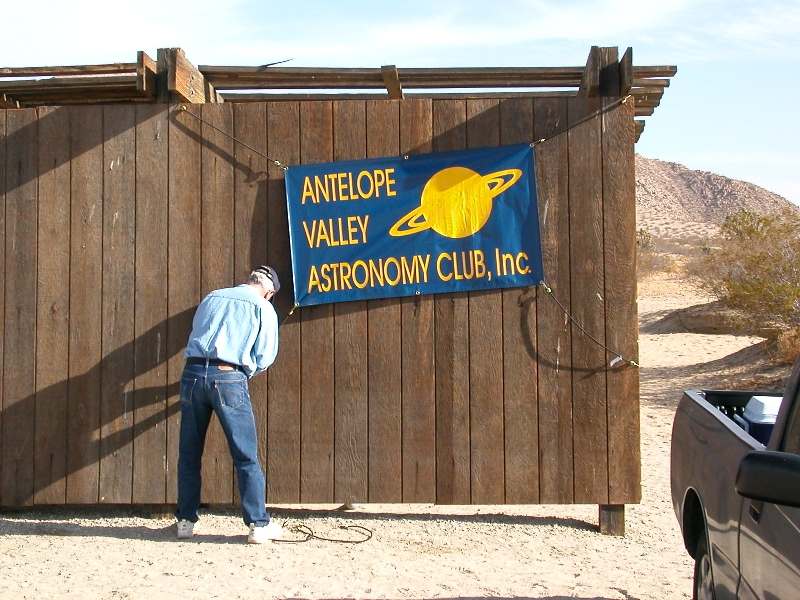 Doug Drake Hanging Our Club Banner
| | |
| --- | --- |
| Brian Peterson - "Grill MASTER" | We started a huge grill going at 4:00, and by the time the Sun was setting, all we had was 20 members there. Then people started rolling in, and they kept coming. |
| | |
| --- | --- |
| | This field was filled with scopes an hour and a half after this shot was taken. That's Doug on the left setting up his Celestron Refrator. Terry Babineaux can be seen in the distance on the right setting up his 8" Meade Schmidt-Cassegrain. |
| Here's Doug offering his assistance to Kent, who had driven down from Edwards. He and Doug eventually got the tripod difficulty solved and shared a great night of observing. | |
The hotline was ringing all afternoon and into the evening - a teacher wanted to bring out 40 students from a nearby school... A group of amateur astronomers wanted to come up from Burbank. The idea of a hotline worked out great. Luckily, the clouds cleared out entirely for 4 hours and we were treated to a sky rating of "7". Transparency was good, but contrast was low. As the evening went on, contrast continued to drop as clouds increasingly moved into the area.
| | | |
| --- | --- | --- |
| | | |
| Holland's giant C-11 can be a group effort to set up. | It has a bolt that has to go in from the bottom that's pretty hard to get started. | Doug took the plunge and got a good angle on the little devil. He was eventually successful. |
| | | |
Even with the drop in contrast, the Veil Nebula looked beautifully intertwined, with a hint of pale green. Even though this object is not typically a Star Party object, a few dozen people stood in line for a nice long gaze at the west Veil. We also checked out "standards" like the Ring Nebula, Saturn, Saturn Planetary Nebula, Albireo, Hercules Cluster, Coathanger Cluster, Double Cluster and a spectacular view of the Andromeda galaxy and its companions. We observed Uranus, Neptune, with help from Doug Drake, and Saturn after it came up over Saddleback Butte about 10:30 pm. Holland's computerized scope was a whir of activity. He observed a lot of interesting and rare objects through his new 2" eyepieces, "Like looking at a TV, the field of view is so big!"
It is great to have fellow amateur astronomers help out with everyone like they did. Special thanks go to Brian and Mindy Peterson (Thanks for grilling!), Doug Drake (Very patient helping people set up scopes and helping out with the newspaper interview), Holland Fountain (You have a great scope!), Darrell and Nick Bennett (Hanging the banner and Nick helped to make 40 cups of hot cocoa!), Steve Trotta, Terry Babineaux, Mary Andrus and Milt Sawyer, Ron Coleman, Paul and Corine Cudney (who were knocking off Messier Objects - Congrats!!), Sue Critchfield (who helped with the hot Cocoa - Thanks Sue!!), Matt, Michael and Sue Leone, Sam and Jerry Prestel. If I missed your name, no slight was intended in any way! I was nearly tied to my scope by a steady line of star party attendees, and didn't even realize the magnitude of the event until I had to walk over to get the hot cocoa going and I saw people set up way out into the Joshua trees! I estimate we had up to 150 at the event. My physical count was 110 at 8:00, but cars were discharging loads of people until 9:30, so I know it was much higher. Cars were parked all the way down the road to the turn in gate.
The public enjoyed the crisp fall evening of stargazing. The club was able to share the sense of excitement and wonder with many, many people - some new to astronomy, and some had their keen interest rekindled and will hopefully join us at our next regular Club Meeting.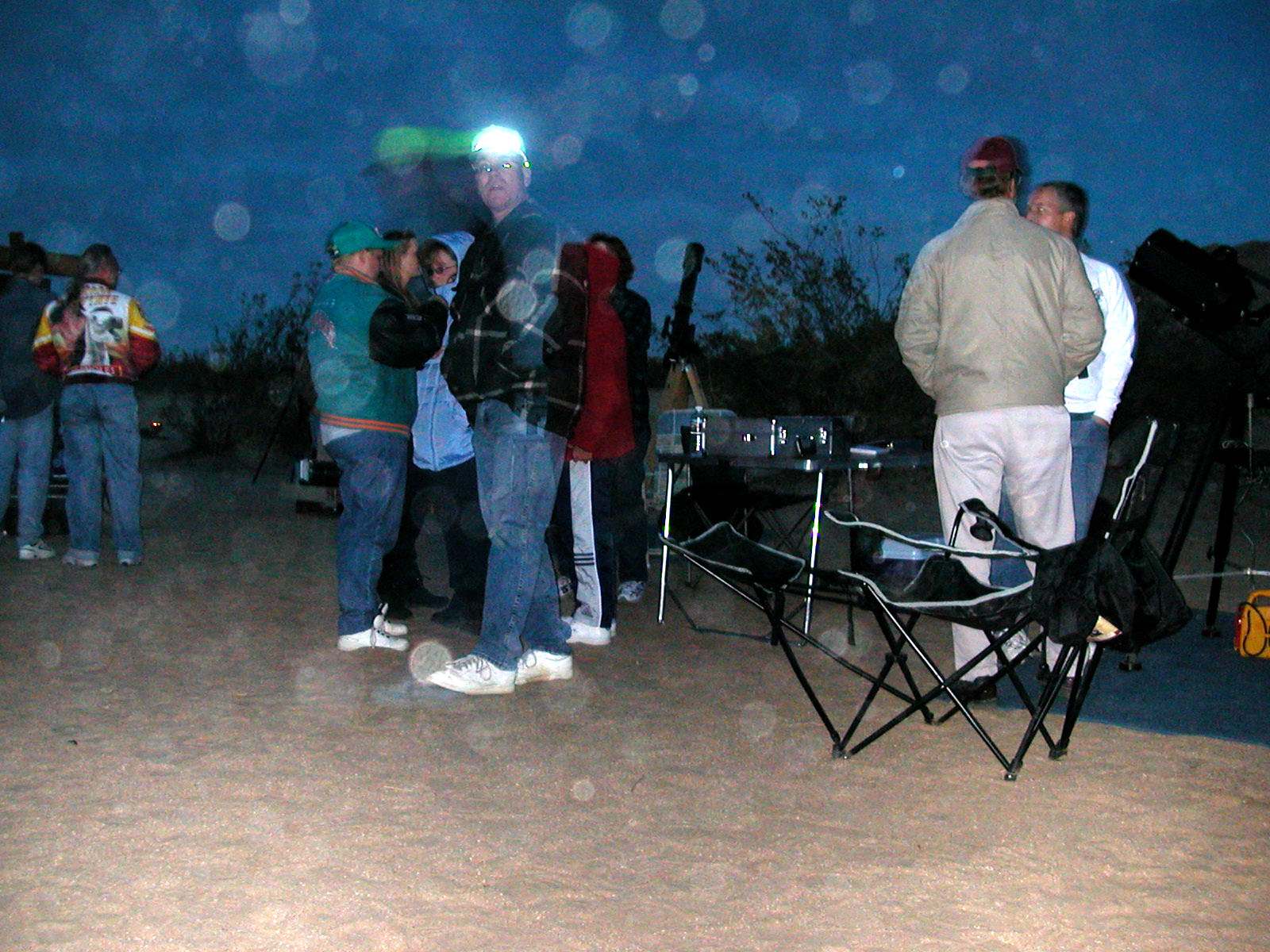 Temperatures started out mild and then it got a little cold by 10 pm. By 12:00, there were only 4 or five of us left, and the clouds had moved all the way in. We called it a very successful evening, packed up, checked the site for lost items and Doug Drake, Terry Babineaux and I were the last to leave around 12:30 am, The Leone's and the Fountain's stayed in their RVs. I am inviting you to please come out to our AVAC next event. We always have a great time, and meet new, interesting people!