Trip to Mt. Palomar
August 17, 2002
Nine members of the AVAC made the trip to Mt. Palomar Saturday, August 17, 2002. It was a great tour, set up for amateur astronomers by the people at Oceanside Photo and Telescopes, in Oceanside, CA. We got a complete behind the scenes' tour, including standing right under the 200" mirror, looking over the re-silvering apparatus, a complete walk around the catwalk on the outside of the dome and a close-up view of the massive horseshoe mount. Some interesting facts that I picked up include that the 200" is f/33 at the prime cassegrain focus (that's a 6600" focal length!!) It's only f/13 at the Coude focus, so you could actually use the scope visually, but the views are not that great, the telescope is primarily used for taking spectra. I got about two feet away from the numerous instrument packages on the bottom of the telescope - there was a whole lot of liquid nitrogen being pumped around those packages!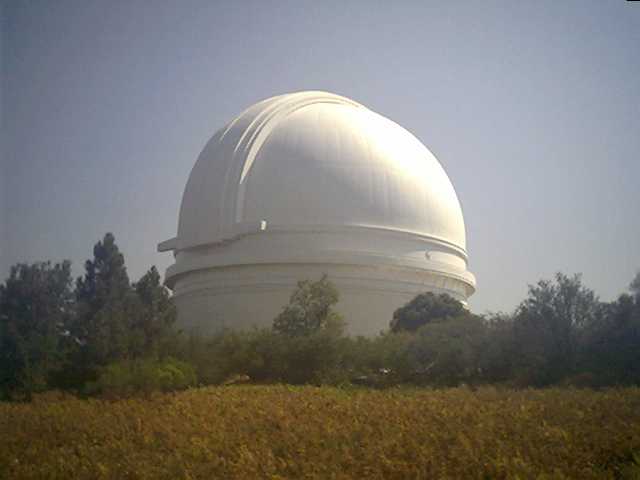 The 200" dome is in a beautiful setting among meadows on the top of Palomar Mountain.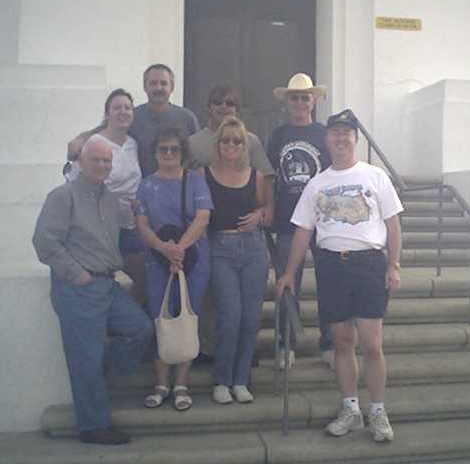 On the steps of Mt. Palomar. In attendance were: (Bottom Row, Left to Right) Deborah Pedroza's cousins Frank and Jackie, Deborah Pedroza, and Tom Koonce. Top Row, Left to Right) Mindy Peterson, Brian Peterson, Terry Pedroza, and Doug Drake. Terry's son Bryan was taking the picture.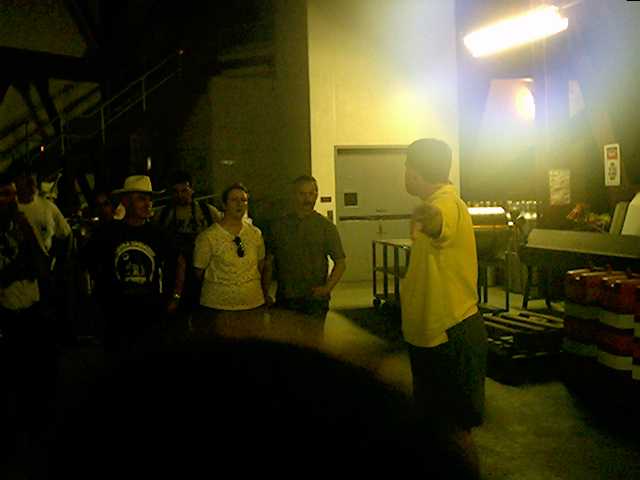 Here's a dark shot with Doug Drake, Mindy Peterson and Brian Peterson standing right under the 200" while listening to the tour director.
The tour lasted about 1 hour, and then we hit the gift shop to get slides and T-shirts. The entire group then went down the mountain and up the road to Temecula to eat a great dinner at the Claim Jumper Restaurant (suggested by Brian...Thanks Brian!) We all had a interesting and fun time. I highly recommend visiting a professional observatory to all amateur astronomers. I learned a lot and got numerous ideas for my own scope and instrumentation.