Messier Marathon 2007 at Saddleback Butte State Park
Hi everyone!
We had some serious wind in the late afternoon, but just as predicted by the Clear Sky Clock, the wind died down, and by 10:45 pm (Virgo Cluster time) it was dead still and the sky was a 7-8! We all had a great time at the Messier Marathon!
A couple of hours before sunset, Matt Leone and I were the only people out at the Group Camp SIte, since Terry and Debora were coming out at about 8:00 pm. By 6:00 pm there were ten people or so, and by 8:00 pm there were over thirty.
Bill and Jenny Riedhart's new homebuilt 12" truss-tube dob saw it's first Star Party and got great reviews on the fine views it provides. Rick Miseroy and his neighbor John came out
I got out the 18" Obsession and also set up a binocular parallelogram mount for my friend Jann, but forgot the crucial adapter that would have let her actually use the rig. Doh! I'm going to take it in to work for her on Monday. The Virgo Cluster ID's went much smoother for me this year. Must be all of the practice paying off.
The seeing became a 6, transparency was about 5, later improving to 6. The temperature dropped as the evening went on to the upper 50's's. The site was moderately dark, with significant new lights along the southern horizon. It was the cold that finally ended my marathon this year - I got 70 Messier objects logged, but missed both early ones, M77 and M74, because I was talking to Jann, Norma, Shavon and Glendora (the seeing eye dog in training). Matt Leone prepared an great Midnight snack at the break, He fired up a grill and a space heater. We sat at the picnic tables while Matt grilled hamburgers and hotdogs for the diehards. By midnight it was just Steve Trotta, Matt Leone, Shane and Karole Barker, Clint (Sorry - didn't get his last name) and myself. I packed it up at about 1:30 and was back at the house by 2:15 am.
See you at the next event! Finding Messier Objects are a great way to learn the sky!
Here are pictures from the event:
| | | |
| --- | --- | --- |
| | | |
| Matt Leone get ready for the evening! | Leon sets up his 12" Meade Lightbridge scope. | Karole and Shane Barker setting up their Meade LX-200 The computerized GoTo was very helpful to keep the rest of us looking in the right general area of the sky - especially to locate objects like M5 that are out in the middle of nowhere. |
| | | |
| Steve has really gotten into using the Dobsonian because it is reall fast and ease to use! | Regular shot of Bill and his new 12" | 3D image of Bill and his new Scope - Use Red/Blue glasses |
| | | |
| Details of Bill's Truss Tube Dob | Details of Bill's Truss Tube Dob | Details of Bill's Mirror Cell |
| | | |
| | Has Matt Leone set a new standard for accessories that Steve Trotta is trying to keep up with? | Bill shows Matt and Leon his new creation. This was the second night out for the scope. |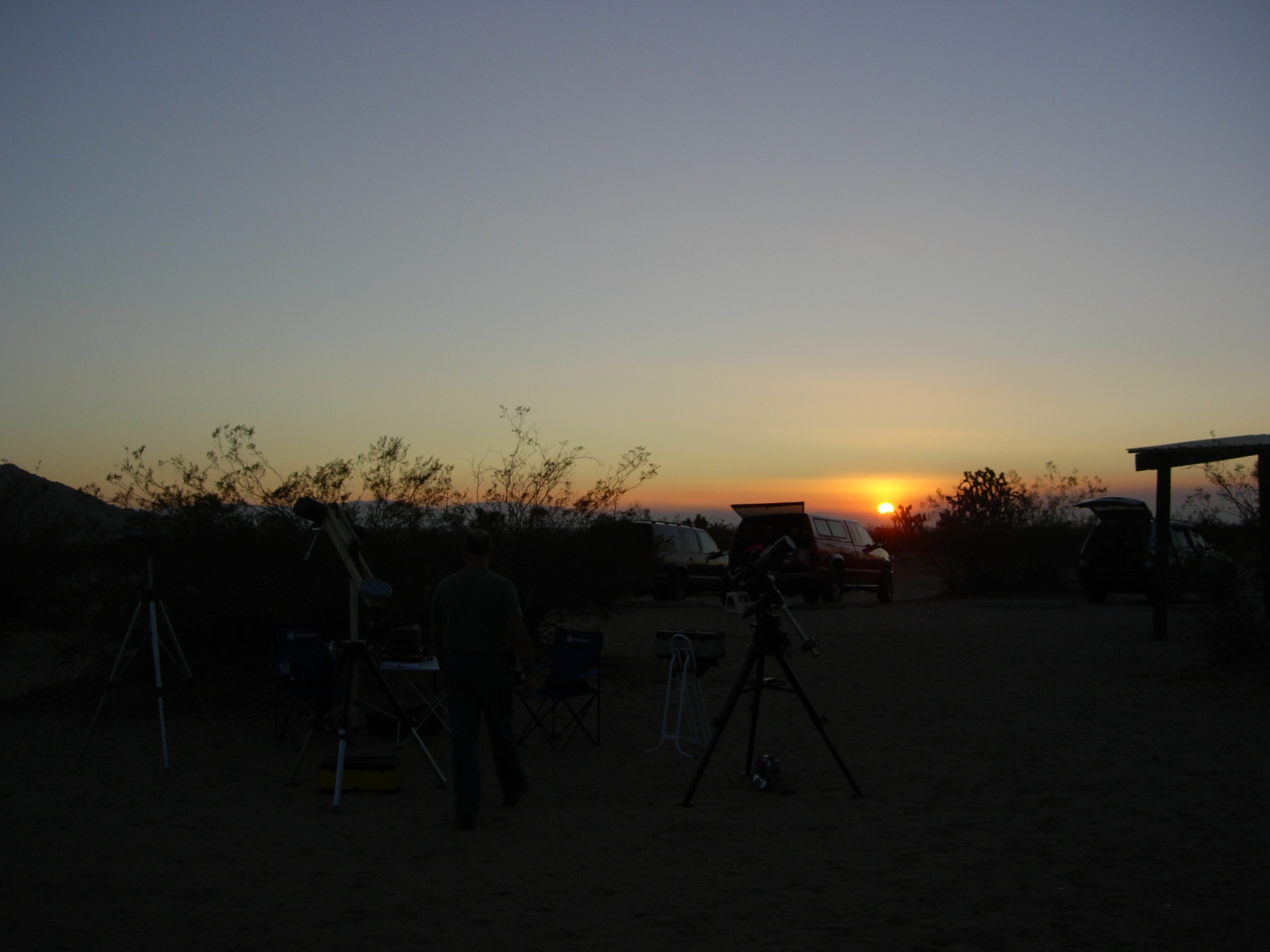 Sunset on the telescope field, March 17, 2007, Saddleback Butte State Park